What Sets Us Apart
Our Commitment Sets Us Apart
When you call, we answer.
When we make a promise, we deliver.
Your satisfaction means everything to us, and that's why we go the extra mile to get things right the first time. And if you aren't completely happy with the final product, we'll find a way to make it right.
While these qualities may sound like givens, time and time again our clients are blown away by our reliability and responsiveness. Our team truly sets us apart, and we think you'll notice the difference when you choose SRS Signs.
Award-winning Sign Company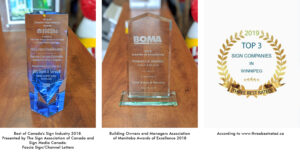 Our Team
Shane Robert Storie, President
Shane Storie, SRS Signs Founder and President, has been around since Day 1: January 20th, 1999 to be exact. His main focus is spreading the word about SRS Signs and doing everything possible to keep customers happy. Bringing a diverse skillset to the role, Shane is in charge of business development, overall management and, just like on day one, general labour and installation.
Shane loves the promo and sign industry, and his favourite part of the job is the excitement he feels helping people opening or expanding their businesses. Shane credits his incredible team for making it all come together, and believes that it's their creativity and vibrancy that sets SRS apart.
Derrick Amy, Director of Operations
Derrick has been with SRS Signs since 2005, and currently oversees daily sales, manufacturing, installation and service. He got his start in the industry over 20 years ago working on service trucks, where you have to be a MacGyver to overcome adversity.
Derrick loves the industry, loves working with customers, and loves the SRS team. He believes that what sets SRS apart is their reliability, as they always answer the phone and do everything possible to get the job done right.
Donovan Moreton, Production Manager
Donovan has been with SRS since 2010, managing sales, estimates, customer service, project management and current managing production. He brings 13 years of experience in the print industry and 11 years of sales experience to the role. Donovan loves the passion and creativity that his team brings to each and every project, and that no two products are the same.
What sets SRS apart for Donovan is their unending creativity, their fair prices and exceptional quality, and that they go the extra mile to ensure their customers are completely happy with the end product.